Publications of AGT Wuppertal 2018
The year 2018 was once again a productive year with regard to the publication activities of the Chair of History and Theory of Architecture at the School of Architecture and Civil Engineering. AGT members were internationally present with exhibition publications, articles in scientific journals and specialist journals and with contributions to books.
A small selection: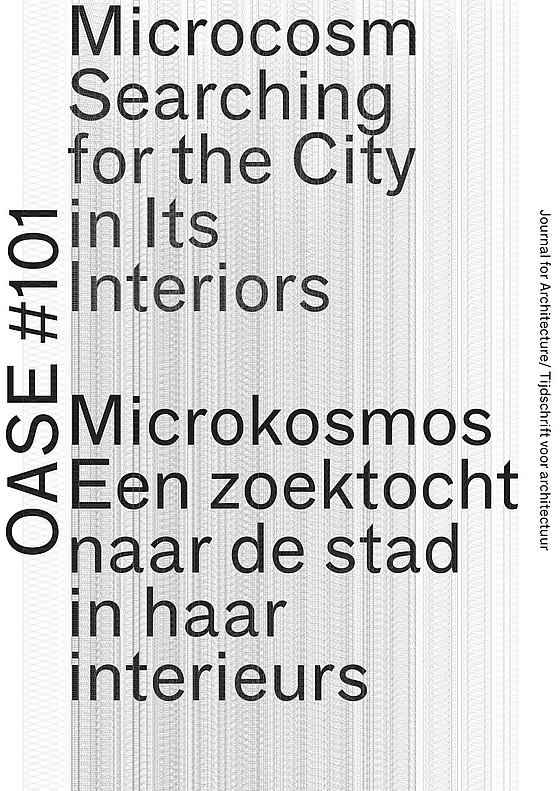 Christoph Grafe, 'Microcosms – Finding a city in its interiors' (with Asli Cicek, Sereh Mandias and Daniel Rossbottom), Oase 101 (November 2018), including the essay Christoph Grafe, 'The Microcosm of London – Interiors of the City as an Archive of Life and Death', Oase 101 (November 2018)
In the modern city, the everyday life is increasingly moving towards the inside of buildings. The interiors of department stores, market halls, administration buildings, museums or theatres become part of the city dweller's experience. Each interior of the city has its own character, atmosphere and representative architectural language that indicates its specific social significance. In contemporary practice, these differences have largely disappeared; a logic of standardisation blurs differences in meaning, but also in atmosphere. The more spectacular the outside of buildings, the more banal their inside seems to become.
This issue of OASE does not want to register this disappearance, but instead looks for a series of strategies and design instruments for the public urban interior. The editors search for architectural projects for interior spaces that derive their meaning from a specific approach and show a recognisable element of authorship.
The image of cities through the interiors of buildings has a long tradition. Often they are images of power and status. They show halls in palaces, churches and theatres and celebrate the opulence and exuberance of the architectural decoration. In the emerging modern metropolis of the industrial revolution, the images of interiors document the multitude of urban situations and social practices. A differentiated urban economy ensures the invention of a wide variety of urban institutes and architectural solutions. This article takes as its material the early nineteenth century Microcosm of London published between 1808 and 1810, images of various social situations, from prisons to hospitals and from places of learning and amusement in which the metropolis emerges as an archive of interiors.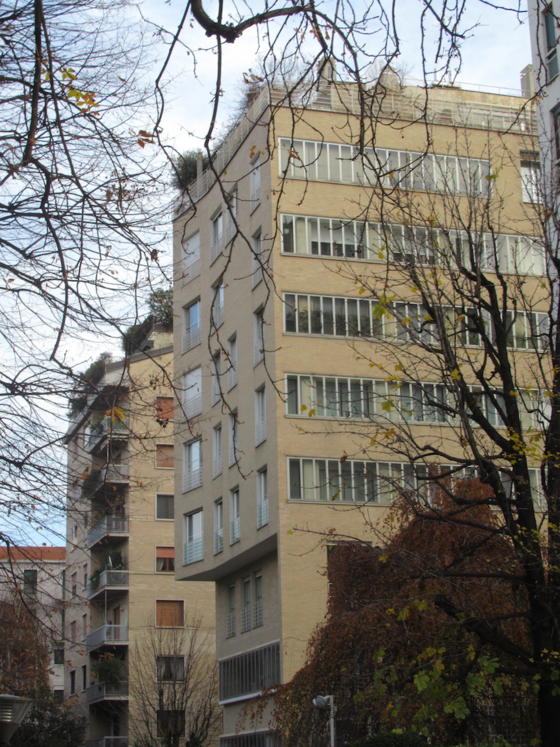 Christoph Grafe/ Tom Avermaete), 'The Ideas of a Small Avant-Garde at Large: Situating Stynen's Professional Practice in the Post-War Period', in: Laureys, Dirk (ed.), Léon Stynen 1899-1990, Flanders Architecture Institute/ VAi, Antwerp, 2018
This comparative essay is an attempt at delineating and rethinking the work of architects such as Stynen, Asnago, Møller and van den Broek beyond the somewhat exhausted categories of 'modernists' and 'traditionalists', of 'avant-garde' and 'mainstream'. The Milanese professionismo colto of Claudio Asnago, the non-dogmatic projects of C.F. Møller in Copenhagen and Aarhus, and J. H. van den Broek's hands-on involvement in the reconstruction of Rotterdam share certain features which cannot be adequately captured with these categorizations, which were developed in the first place to describe artistic practices and thus seem distant from the dirty realism of architectural practice. Instead, we propose the notion of 'cultured professionalism' to qualify the work of Stynen and his contemporaries. The concept is used to describe the specific approach of architects such as Stynen, Møller, Asnago and van den Broek to the large post-war assignments of collective housing, schools and cultural centres. They share a professional, pragmatic and service-oriented attitude in which providing an adequate response to the welfare-state programmes seems to take precedence over the will to articulate the signature of the individual architect. But the concept of 'cultured professionalism' also refers to the intense relation that Stynen and his contemporaries maintained with the local culture in which they performed. They were practitioners who thrived on close relations with a group of well-established public and private clients and whose work can therefore be described as both socially and locally embedded. They shared a pragmatic yet highly knowledgeable attitude towards the given economic and social context of their region and city, which is never fundamentally questioned.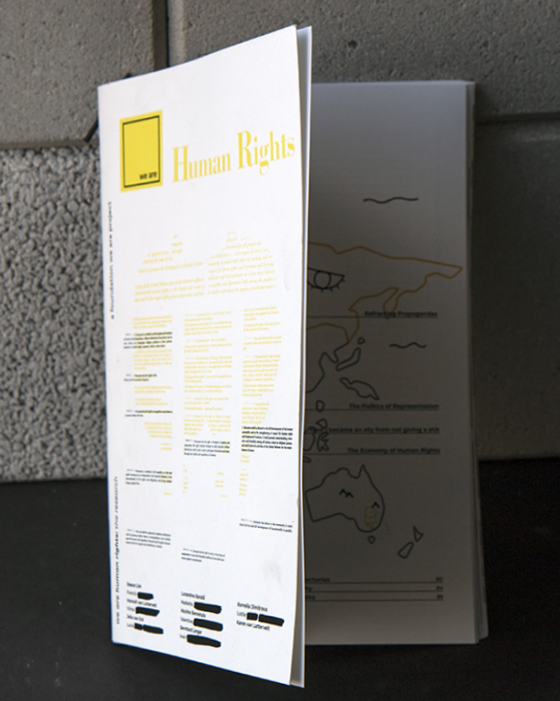 Kornelia Dimitrova, We are human rights – The research publication, Eindhoven: foundation we are, 2018, exhibition catalogue on the occasion of Dutch Design Week 2018
This publication contains all the research that has been done during the We Are Human Rights project. It explains the concepts of the seven projects as well as give an insight into the methods that have been used, how We Are looks at the agency of design and it dives into the history of designing for the immaterial. No universal methodology will follow from these pages, and neither will any definitive statement on the intersection of human rights and design practices. There is not one process, or recipe, which someone could follow to design for human rights, even though some prescriptive approaches, Design thinking among others, tempt us to believe otherwise. Yet, without a doubt, a rare experience, such as the We Are Human Rights project, generates new insights and observations, and this in itself calls for reflection.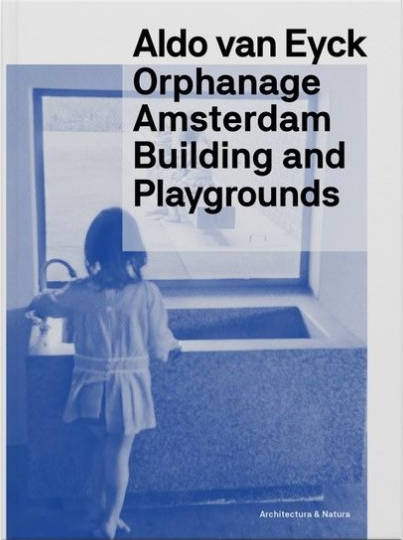 Christoph Grafe, 'Confusion, symmetry and other really evil matters; Aldo van Eyck and his orphanage in 1959, in: Orphanage Amsterdam: Building and Playgrounds by Aldo van Eyck, Architectura & Natura, Amsterdam 2018
Aldo van Eyck's Orphanage is many buildings. The architect himself thought of it as a small city, as a collection of architectural situations. Some others – critics, fellow-architects, teachers of architecture – have appropriated this building as a canvas for projections of varied expectations and hopes. The Orphanage is also a building that, despite its not unproblematic history, continues to be viewed favourably as one of the very few really significant buildings in post-1945 architectural history. In 1959 Aldo van Eyck, then 41 years old, presented the Orphanage at what turned out to be the last conference of the Congrès International d'Architecture Moderne (CIAM), at Otterlo. The Orphanage is discussed as a statement about architecture: the essence of its operations and its fundamental role in society. His stated conviction that the building – and architecture – is to provide a response to the ills of society concurred with very general tendencies in the architectural discourse of the period. Van Eyck's manifesto for a radically different position and definition of architecture can be seen as one of the major events in the definitive disintegration, perhaps a decisive nail in the CIAM's coffin. Meanwhile, the Orphanage retained its singularity within the oeuvre of its author. No other built or un-built project in the successive career of Aldo van Eyck has superseded this early project or equalled its effect in and upon architectural history. It advanced an intellectual and cultural position, with implications concerning the role of architecture and its autonomy – and it implied also a position of what it means to be an architect.
'Rooms, Passages and Views; a primary school building by Bovenbouw architects', in: Sofie De Caigny, This is a Mustard Factory, Architectural Review Flanders no. 12, Flanders Architecture Institute/ VAi, Antwerp, 2018
Designing a school is one of the most contentious and difficult of all architectural tasks. Schools are never merely buildings. They are, perhaps ideally, environments that help children discover and understand the wider world. The tension between the architectural and the educational impulses has remained a perennial theme in the debate on school building and it is of particular concern in the design of primary schools. Is there a way out of the impasse between didactic preoccupations and formalistic approaches to school architecture? Can a school express its role as a public building while also exerting a presence within its urban context? And which compositional strategies can be deployed in this day and age, at a time when the design and construction of educational buildings is subject to ruthless economies that reject anything that falls outside the logic of relentless utilitarianism? These are just some of the questions with which Bovenbouw grappled when designing a school in the municipality of Berlaar, some 15 kilometres to the southeast of Antwerp. And by way of a response, they devised a building that combines a modest demeanour with an inventive examination of the potential that lies within spatial configuration. In the design for this contemporary school, the architects successfully solve the problem of squaring the logic of repetition with the need to bring a distinct atmosphere and character to each individual space. By weaving one space into another, an experience of unity is achieved, as well as an intuitive sense of orientation. Understanding one's position in the building is not achieved through hierarchy but via differentiation and immersion. Experienced gradually, and without anxiety, the 'heap of spaces' that comprises the building and its parts makes perfect sense. This is architecture that communicates a Menschenbild – an idea of what it means to be human – rather than a doctrine. This is one of the lessons delivered by this school in Flanders, and it is given calmly, elegantly and without the slightest hint of didactic pose: the world of the school as a space for comprehension and cognition, with places to discover and remember.
The same publication also contains the article:
Christoph Grafe, 'The dimensions of the ordinary, reloaded; Some observations on the Cadix development in the Antwerp docklands', in: Sofie De Caigny, This is a Mustard Factory, Architectural Review Flanders no. 12, Flanders Architecture Institute/ VAi, Antwerp, 2018
zuletzt bearbeitet am: 17.02.2023